Small Business Phone Solution: FTEtech has handcrafted services and product offerings that directly complement each other while operating in harmony. This is a story of a business that had many electronic communications issues which will absolutely impact your bottom line in today's environment.
A dropped call, a web-page that wont load and security vulnerabilities are just a few indications that your business is being held back from what it could and should be.
Small Business Phone Solution Case Study
To start things off, there was an inquiry on our phone system that we specialize in. This client was having a ton of issues with call drops, conference call issues and phones becoming unregistered from their old system.
They had an old school phone system that was providing basic phone needs at old school prices. Today, this is just unacceptable and a lot of business owners take it on the chin because they need their phone calls and do not have proper guidance to inquire on systems that have more to offer with more attractive pricing (AKA Value).
Solution For The Small Business Phone System
This was a straight forward install of a system that had the ability to have an electronic operator direct calls. In Addition, conference call capabilities that send email invitations to link to calendars. Furthermore, WebMeetings that allowed them to share and take control of a meeting participants computer. This also allowed for cell phone integration, IM services, call recording and really it was "the works". We paired this with some sleek new phones. Also, we installed the App on their cell phones and showed them how to make calls from their browser of choice.
This phone system combined with our phone service gave this client a bill that was:
Less expensive to run than their old system.
A bill that was the same each month.
A system that worked to provide many useful communications channels for all employees.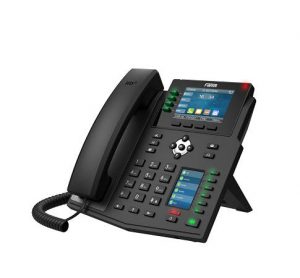 30 Days Later – Our Small Business Phone Solution
After 30 days, we were asked to do a network audit and try to get to the bottom of some internet browsing issues and spotty WiFi. Furthermore, we had a good feeling that after seeing this organization run on sub-par equipment through a rapid growth phase, that they were going to need a bit of an upgrade. As a result, we provided two solutions to their problems:
Solution 1:
An estimate to replace their Firewall/Router, Switches and WiFi access points. With this option, we would install new equipment. We do so with with best practices being implemented. This would be paid upfront. As you'd expect, this is a bit of a capital investment in your growing business.
Solution 2:
Solution two would be charged as a lease option, monthly. An estimate to replace their Firewall/Router, Switches and WiFi access points with new equipment.  This lease option includes support on all devices. Furthermore, we would support backups, upgrades and security patching. Finally, free replacement should the client believe that the device was at fault for any issue.
The client went with 'Solution 2'. As a result, this allowed them to save on upfront costs. Today, they drive the more complicated side of their IT program hands-free. More importantly, they have someone to call if they need assistance. Best of all, they did not have to come up with upfront cash for something they very much needed.
Out with the old:
In with the new: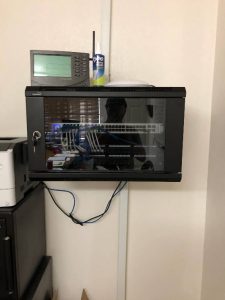 Small Business Phone Solution Summary
I would encourage anyone reading this, to reach out for an estimate.  We are an IT team that is located in Central California and New York. Regardless of our location, we can assist clients Nationally. Please check our phone services for more details. If you have any questions, please contact us for assistance.